Training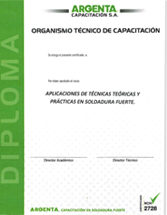 EL INSTITUTO TECNICO DE LA SOLDADURA DE ARGENTA (ARGENTA TECHNICAL INSTITUTE OF WELDING) is the best choice for training and specializing in Brazing.
Get your Diploma.
FOR YOUR COMPANY: THE INSTITUTE schedules training courses matching your company's demands, and in relation to your needs, monitored on site by a qualified staff.
THE INSTITUTE runs public Theoretical - Practical courses concerned with professional expertising topics.
For on-site evaluations and registrations, contact us at:argenta@argenta.cl